Portal vein embolization
What is a portal vein embolization?
The liver has the ability to grow back the pieces that have been removed, as long as not too much tissue is removed at once. Approximately 30 to 40% needs to remain. If there is less than that left after liver surgery, a portal embolization can ensure that the part of the liver that will remain in the body can grow before the procedure. A portal vein embolization is a procedure intended to stimulate liver growth. This procedure will be necessary if not enough liver tissue is expected to remain after surgery. During embolization, the blood flow to the area is blocked. Portal vein embolization blocks the blood flow to certain parts of the liver using small particles, glue, small metal coils, and/or a plug. The material is administered into the vein by an interventional radiologist using a needle and catheter (small, flexible tube) using image-guided techniques.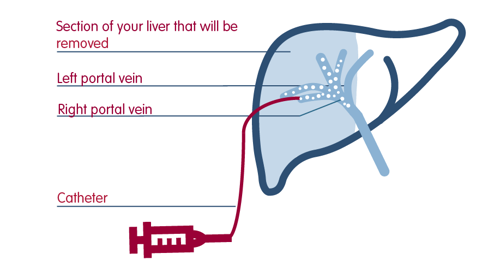 Illustration portal vein embolization